Favorite Winter Outerwear At Nordstrom
Thank you to Nordstrom and LTK for sponsoring this post. As always, all opinions are my own.
A winter coat or jacket in your wardrobe is a must-have. Not only does it keep you warm, but it can also help protect you from the cold weather elements, like wind or snow. From puffer jackets to wool coats, there are several options to choose from, but how do you know if you're picking the right one? I've rounded up a few of my favorite coats and jackets at Nordstrom that will make great additions to your closet, depending on which type of outerwear need.
Nordstrom carries many well-known brands, so you have plenty of choices when you are looking for something for your closet. They have brands such as L.L. Bean, Barbour, Madewell, Tory Burch and Steve Madden. You can also find designer brands at Nordstrom such as Yves Saint Lauren, Gucci, Givenchy and Mulberry. I especially like Nordstrom's own exclusive brands such as Caslon, Halogen, Zella and Treasure & Bond and have several pieces from their exclusive brands in my own closet!
In choosing which type of coat or jacket is best for your wardrobe, it's important to know what type of outerwear will fit both your personal style and your lifestyle. What type of job do you have and do you need a casual or dressy coat? Are you outdoors a lot? Do you wear a mix of casual and dressy outfits. Let's first look at the coat I'm wearing…
For size reference, my height is 5'9″ and I weigh approximately 165 lbs. For tops, I typically wear a size Medium (10) or Large (12), depending on the brand and fit of the top (for slim-fit, I usually wear a Large). For bottoms, my normal size is a 10 OR a 30/31 waist, a 10-inch high rise fits my waist the best and a 28 inch inseam falls right at my ankle. My shoe size is 9 medium or 40EU.
I recently added this Bernardo Packable Puffer Hooded Coat (size Large) to my closet. I bought a Bernardo coat from Nordstrom several years ago and have worn it so much, I needed to replace it! What I love about Bernardo coats is that they are so warm in the winter, but are very lightweight. The Ecoplume insulation does a great job at keeping you warm when it is freezing outside! Another plus to this coat is the Ecoplume recycled-polyester insulation is made from 100% recycled plastic bottles and is Global Recycled Standard (GRS)–certified. This coat also includes a removable zipped hooded bib liner, to keep you extra warm! I'm wearing this puffer coat with an athleisure outfit, also at Nordstrom. You could also wear this puffer coat with so many outfits. I'm wearing leggings and a tee, but you could also wear this coat with jeans and a shirt, pants and a sweater or joggers and a sweatshirt.
Shop My Outfit:
Here I have the bib insulated liner zipped…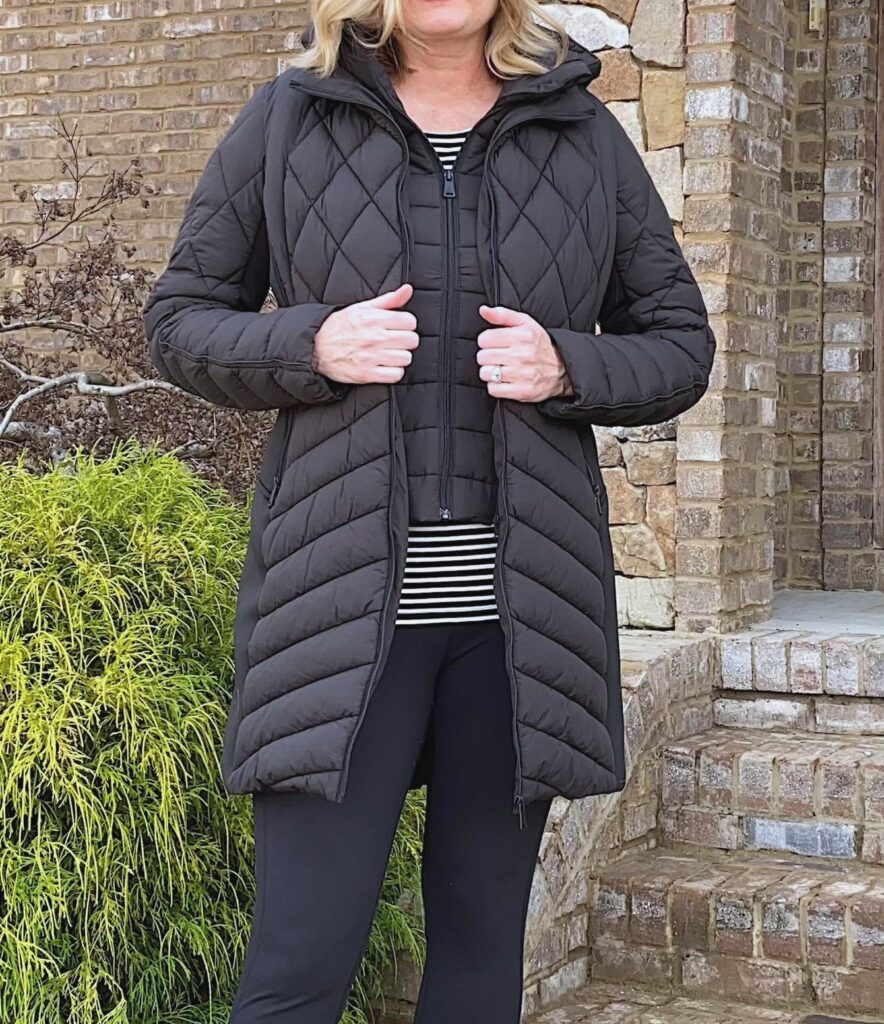 I'm also wearing this Halogen Black Striped Tee (size Large) that I have had for a few years. I love wearing this tee with my leggings and joggers and also wear it underneath jackets, vests and cardigans. It still looks new since I wash it in cold water and hang it to dry. I never iron it because of the soft modal/spandex blend. This tee also comes in black (I have that color too), gray and white.
My most favorite leggings ever are these Zella Live In High Waist Leggings (I'm wearing a Large in the black color, 7/8 length). They are slightly thicker than regular leggings, so they feel a bit warmer in the cold months. Nordstrom also carries these Stem Fleece Lined Thermal Leggings, which would be cozy warm in the winter! See the selection of Zella Leggings at Nordstrom here.
I recently ordered these New Balance 327 Sneakers with suede trim (sized up a half size to a 9.5). This style of sneakers are so popular right now! This style of sneaker is a modern take on the 1970's sneakers. See the selection of New Balance sneakers at Nordstrom here. I'm also wearing the Le Specs Liar Liar 57mm Polarized Cat Eye Sunglasses.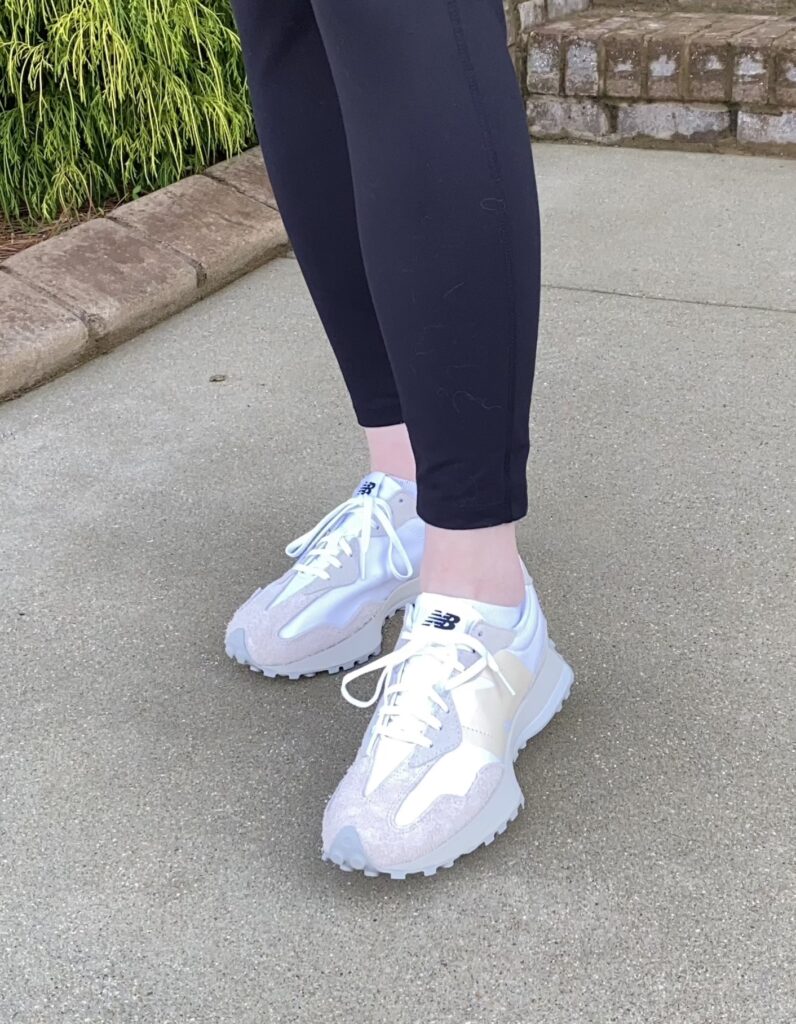 Nordstrom has several styles of Bernardo coats, jackets and vests. If you are looking for a puffer coat, see Nordstrom's selection of puffer coats here.
Other Popular Outerwear Styles at Nordstrom
Wool Coat – Wool coats are versatile, as the style of coat looks great with casual and dressy outfits. They come in several colors and the natural wool fibers keep you warm. These coats look nice with dresses and your dressy work outfits.
Parka – a parka coat is one that is longer and provide warmth in cold weather. They usually come with a hood, making it easy to throw it on to keep your head warm and protect it from the wind. These coats are great to wear if you are outside in the weather.
Shirt Jacket – This style of jacket has been trending for the past year and is still popular. If you have mild winters where you live, you may like this style of jacket as it is not as heavy as the traditional winter coat.
Vest – Another style of outerwear that is lightweight, so if you live in a warmer climate in the winter, you may prefer this style.
Thank you for visiting the blog!
A Bit Of Inspiration For Your Day:
"Ask and it will be given to you; seek and you will find; knock and the door will be opened to you." – Matthew 7:7