How To Create A Jewelry Capsule Wardrobe + 3 Jewelry Capsules
See how to create a minimalist jewelry capsule wardrobe in gold, rose gold and silver metal mix and match combinations. You can use these base jewelry capsules entirely on their own or expand them by adding more pieces.
If you use a capsule wardrobe for your clothes and shoes, you know how you love everything you wear everyday and how you save money by utilizing your basic essentials every season. Capsule wardrobes also simplify your morning routine and reduces clutter in your closet. Your jewelry collection can also be curated into a capsule!
Several readers have asked if I could create a jewelry capsule that they can wear everyday. I already include mini jewelry collections in all of my Capsule Wardrobe eBooks I publish every season. They include just a few pieces which can mix and match with all the outfits in the eBooks. I created 3 jewelry capsule wardrobes, one for each metal: Gold, Rose Gold and Silver. You can use just one of the capsules for a simplified jewelry collection you can wear everyday, or you can use all 3 and wear them different days of the week!
I have been wearing Kendra Scott jewelry for almost 5 years now and still have the first pieces I purchased. I LOVE wearing all their jewelry and have recently become a Kendra Scott Inflencer!
All the jewelry is from Kendra Scott and include their "icon" pieces, which are classic pieces that always have year after year. The "icon" pieces are great to use as your "base" jewelry, since all the pieces coordinate well together. What's great about Kendra Scott is that the jewelry is well made, lasts for years and all the pieces coordinate well.
You can use these jewelry capsules by themselves to create many looks or you can add pieces with different stones in the same metals to expand the collections!
You may also like:
How To Start A Capsule Wardrobe: A 5-Step Visual Guide
How To Create a Core Closet
Free Printable Capsule Wardrobe Season Planner
How To Create A Jewelry Capsule Wardrobe
Use these steps to create a minimalist jewelry capsule wardrobe to wear with all your outfits. You can use these steps to build your jewelry capsule wardrobe from pieces at Kendra Scott, or you can include pieces already have. If you want to include pieces that have stones, make sure they are in neutral colors to coordinate with the other pieces in your capsule.
1. Choose Your Metal
First, decide on what metal you like to wear the most: Gold, Silver or Rose Gold. Which metal looks good with your skin tone? What metal is your favorite to wear?
2. Add A Long Necklace
This necklace falls at your mid-chest and is great to wear with tunics, cardigans and dresses.
3. Add 2 Short Necklaces
Add two different necklaces in a short length that falls at your necklace. You can add a necklace extender in your coordinating metal to one of the necklaces so you can layer them!
4. Add 2 Bracelets
Add 2 different bracelets that you can wear separately or together. A cuff bracelet and a dainty bracelet mix well together, depending on the styles.
5. Add 2 Earring Styles
Add a pair of stud earrings and a pair of drop earrings. Stud earrings are great to wear if you want the look of an earring, but don't want a heavy earring look with your outfit (casual, athleisure, etc). Drop earrings are ones that hang from your ear and move freely and they look great with dressy outfits or when you want to wear more of a statement earring.
6. Add A Ring
To complete your jewelry capsule, add a ring in a coordinating style. This is optional if you prefer not to wear rings.
Gold Jewelry Capsule
Here is a complete jewelry capsule in a "gold" metal:
Gold Jewelry Capsule:
Ellie filigree stud earrings
Sophia drop earrings
Aiden filigree pendant necklace
Fern gold metal necklace
Elisa dichroic glass gold necklace
Rue cuff bracelet
Elaina dichroic glass bracelet
Elyse ivory mother of pearl stone ring
short necklace extender (optional)
Here are several mix & match combinations for the Gold Jewelry Capsule: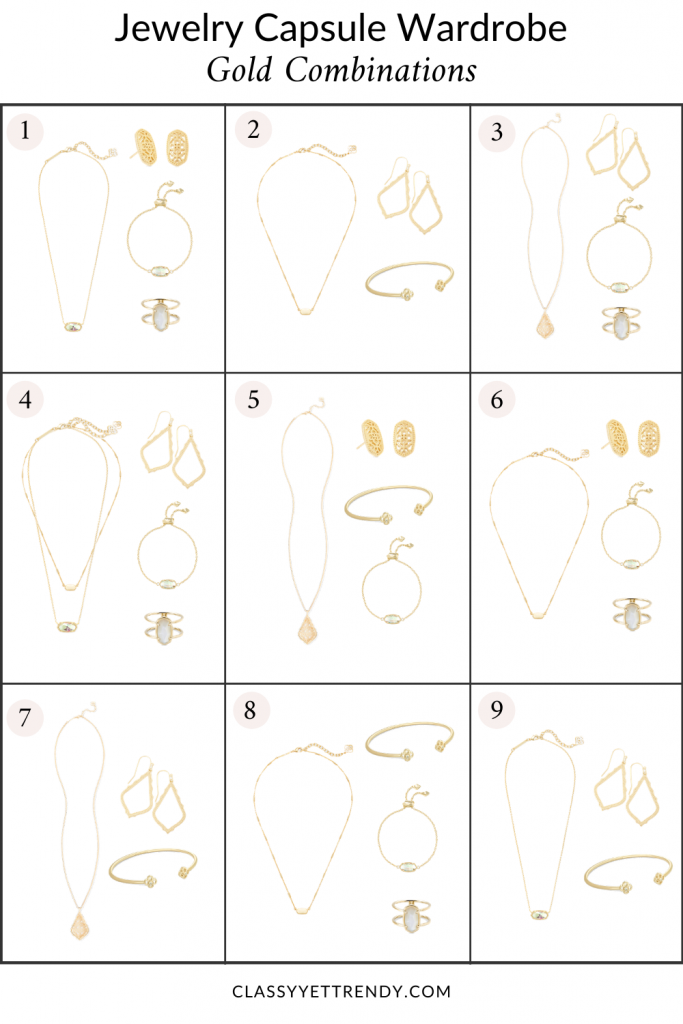 You may also like:
How To Dress Like a French Woman
How To Find Your Personal Style
Silver Jewelry Capsule
Here is a complete jewelry capsule in a "silver" metal: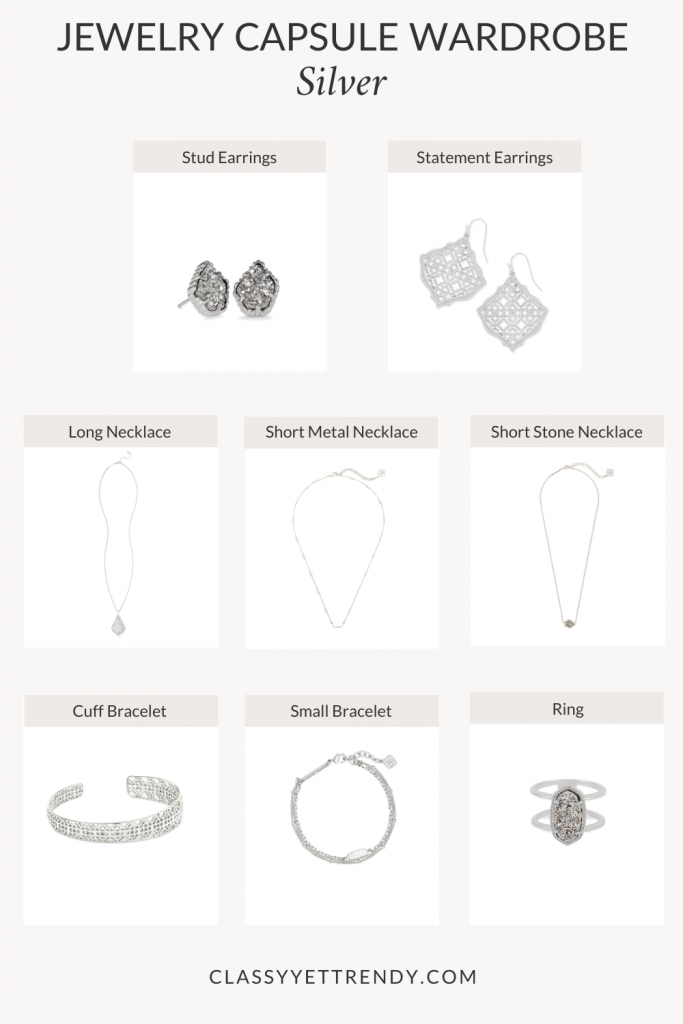 Silver Jewelry Capsule:
Tessa Platinum Drusy Stud Earrings
Kirsten Drop Earrings
Aiden Pendant Necklace
Fern Silver Necklace
Tess Platinum Drusy Necklace
Uma Cuff Bracelet
Fern Multi Strand Bracelet
Elyse Platinum Drusy Ring
short necklace extender (optional)
Here are several mix & match combinations for the Silver Jewelry Capsule: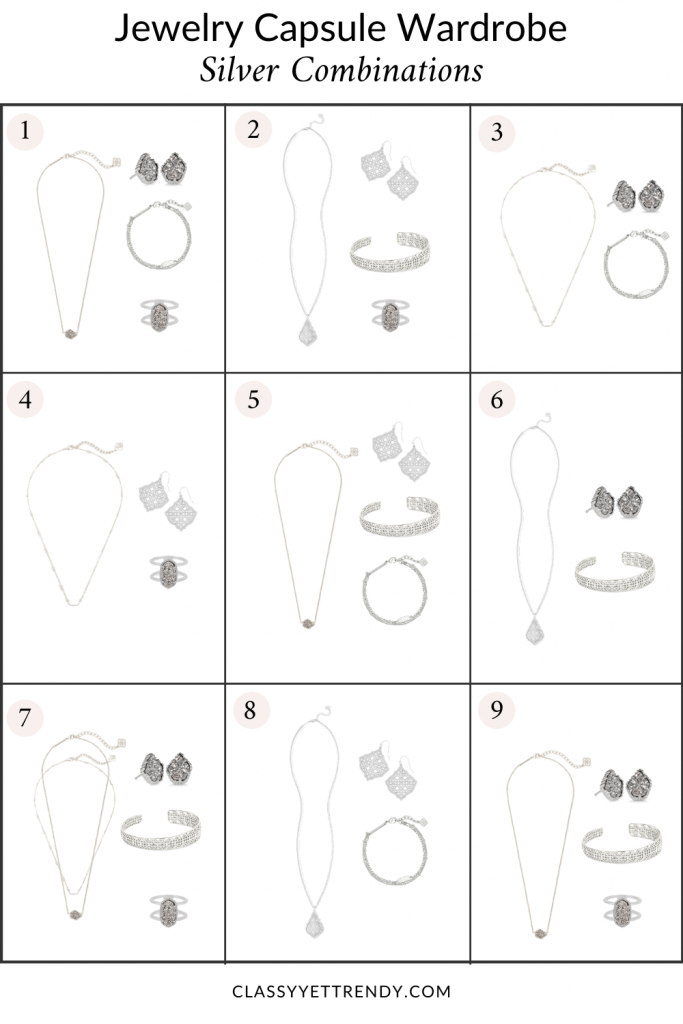 Rose Gold Jewelry Capsule
Here is a complete jewelry capsule in a "rose gold" metal: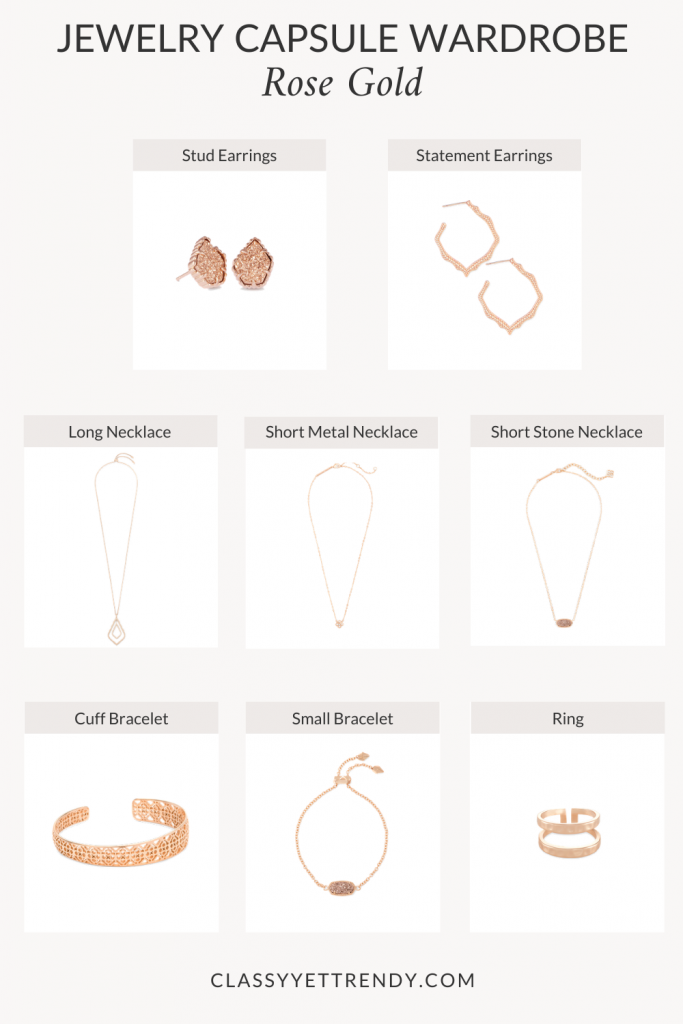 Rose Gold Jewelry Capsule:
Tessa Rose Gold Drusy Stud Earrings
Miku Hoop Earrings
Simon Pendant Necklace
Rue Necklace
Elisa Rose Gold Drusy Necklace
Uma Cuff Bracelet
Elaina Rose Gold Drusy Bracelet
Zorte Double Band Ring
short necklace extender (optional)
Here are several mix & match combinations for the Rose Gold Jewelry Capsule: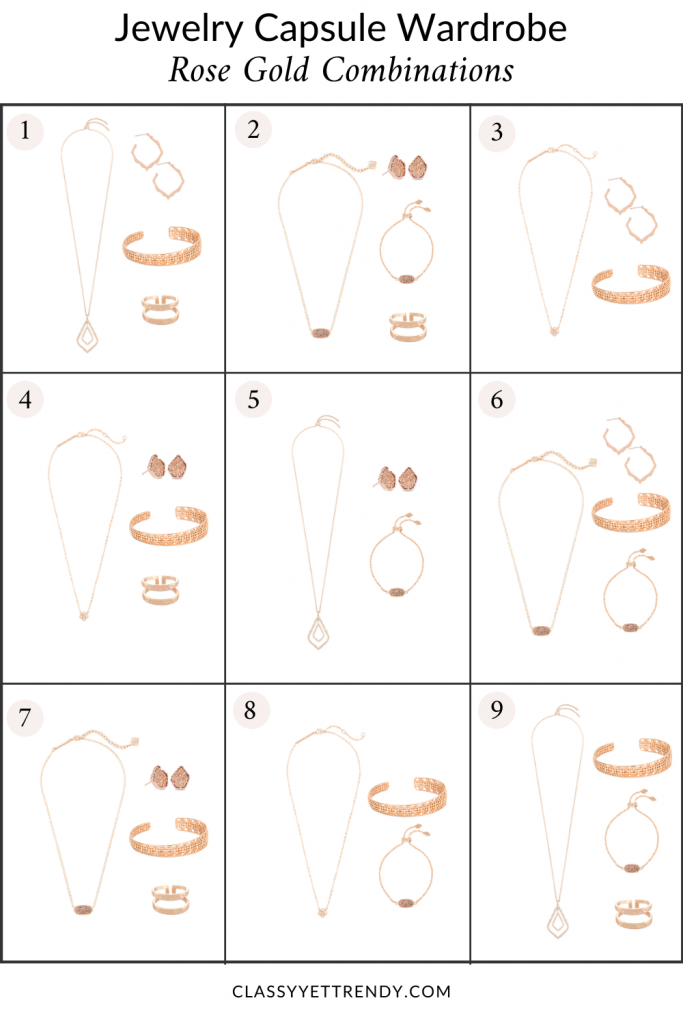 How To Expand Your Jewelry Capsule
The more you use any of these jewelry capsules, you may want to add a few statement pieces for even more jewelry combinations! Here are a few other "icon" pieces at Kendra Scott you can add to your collection:
Elle Drop Earrings
This style of earring is a classic and comes in several stones and metals to choose from. These pairs will coordinate nicely with the above jewelry capsules: gold white mother of pearl, silver rose quartz and rose gold abalone shell.
Elton Cuff Bracelet
This is a classic piece that also comes in several stone and metals. You can add any of these bracelets to the coordinating jewelry capsule above: gold bronze veined turquoise, silver ocean kyocera opal and rose gold dichroic glass.
You can create your own jewelry online at The Color Bar or in the store! I have created a few pieces and they are some of my most treasured ones that I wear often. Choose your style, then your metal, then your stone and that's it, super easy!
Where To Keep Your Jewelry
You'll need a central place to keep your jewelry, so you can easily pick what you will wear. A jewelry box or jewelry stand are great to have. This jewelry box in "blush" or "white" is the perfect size for any of the jewelry capsules above. If you are adding any additional pieces to the jewelry capsules, this medium size jewelry box is perfect. If you are a jewelry enthusiast, you will LOVE this Large White Lacquer Jewelry Box! I have this size (since I'm a HUGE Kendra Scott jewelry fan) and absolutely love it. Here are all their jewelry boxes, stands and ring holders.
How To Care For Your Jewelry
To ensure that your jewelry lasts for years, avoid getting it wet and also avoid using soaps with it. See their Jewelry Care page for more info.
How To Save On Kendra Scott Jewelry
Kendra Scott is moderately priced and is well worth the investment in the long run. Since their jewelry lasts for years, you are getting your money's worth when you wear their jewelry. If you are on a budget, here's a tip: sign up for their newsletter to be notified of sales and promotions. I hardly ever pay full price, since I wait and take advantage of their sales as they come along!
I hope you enjoyed these jewelry capsule wardrobes and can use these combinations with your outfits!
Which metal is your favorite: gold, silver or rose gold?
You may also like:
4 Ways To Add Color To Neutral Outfits
10 Ways To Wear A Denim Jacket
6 Ways To Wear A Plaid Blazer
GIVEAWAY
I'm giving away 2 Kendra Scott Gold Sawyer necklaces and 2 $100 Kendra Scott Gift Cards! Each winner will receive 1 Kendra Scott Sawyer necklace in the gold metal tone and 1 $100 Kendra Scott gift card. The gold Sawyer necklace was a free promo a couple of weeks ago and I received 2 extra necklaces with my order, which I'm giving to 2 lucky winners! The $100 gift cards are e-gift cards, which will be sent to the 2 winners via their email address to spend at Kendra Scott. This giveaway ends Sunday, May 17. The 2 winners will be notified via email so please add classyyettrendy@gmail.com to your address book.
The Giveaway Has Ended!
Congratulations to Karen W. and Stephanie H.!
They are the winners of the Classy Yet Trendy Kendra Scott giveaway! Thank you to everyone who entered.
a Rafflecopter giveaway
This post was not sponsored by Kendra Scott and the giveaway is not affiliated with Kendra Scott. I wear Kendra Scott almost exclusively and consider it the perfect brand for a jewelry capsule wardrobe!
"My grace is sufficient for you" – 2 Corinthians 12:9