How To Create A Core Closet
When you get dressed, do you find yourself reaching for those items that you love to wear and feel great in?  Do you have a few items that are your favorites that seem to go with just about everything?  Do you keep a capsule wardrobe and always include a few items that you know will look great with everything?  If you want a wardrobe that will really works for you, where you can get dressed effortlessly everyday and have many outfit possibilities, you need a Core Closet.
What is a Core Closet?
Clothes that are mostly solid colors, in basic styles that never go out of style are "basic essentials".  I talk about basic essentials a lot here on the blog!  They make up the core of our closet…the foundation in which we build a wardrobe upon.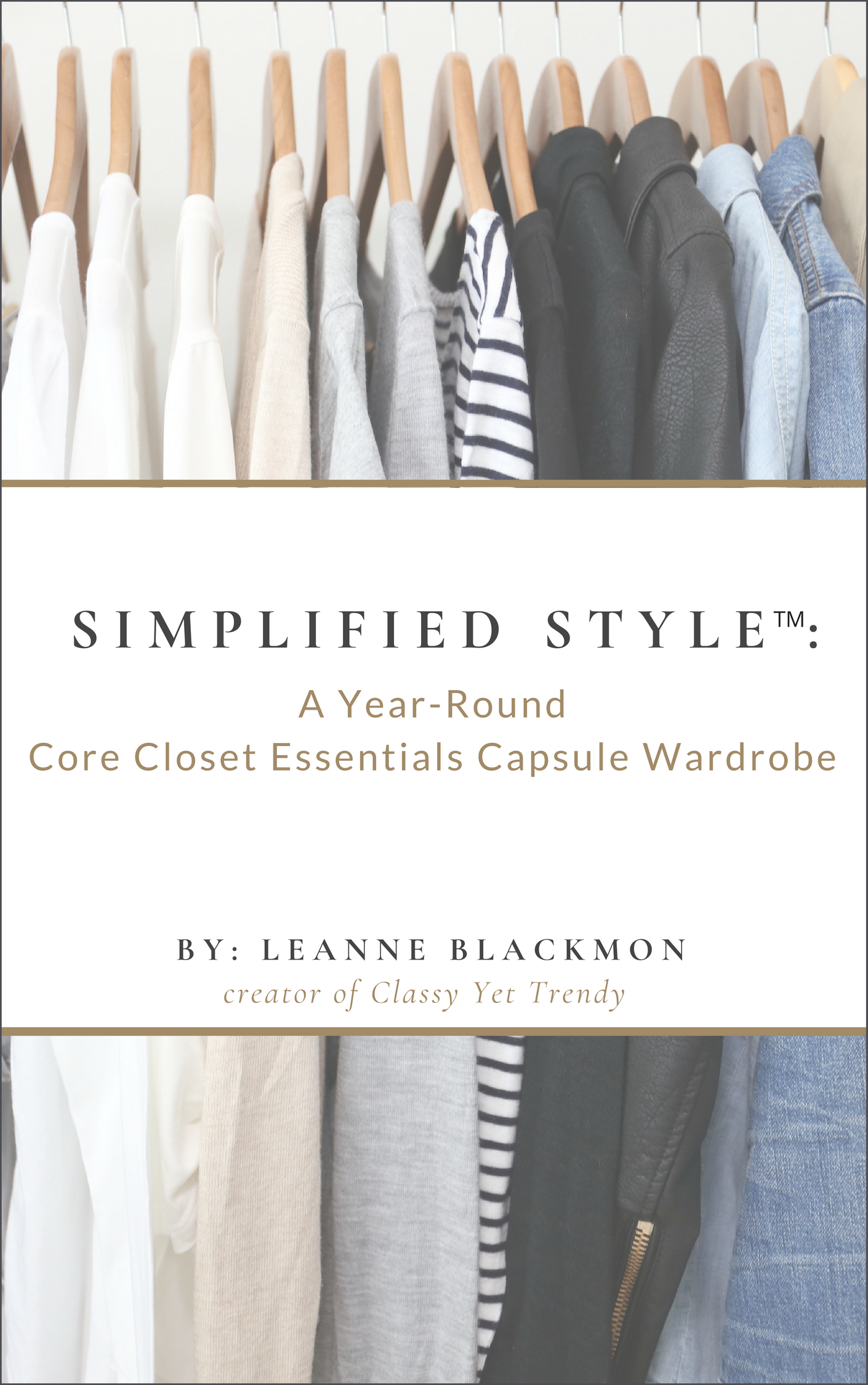 Basic essentials are always in style and are the core of your outfits.  Tees and jeans are the most basic essentials you can have.  They can be worn casually with loafers or dressed up with a leather jacket and black heels.  If you are needing to dress up a bit, wear an ivory sweater with a black pencil skirt or ankle pants.  Everyone needs a black dress in their closet.  Even though it's the most basic dress, it will look great at any function you may attend.  Did you know the only top in the collage above that has a pattern is the striped top?  Because the stripes are black and white, they are neutral colors and it's a simple pattern.  The striped top will coordinate with all the items in the collage.
A core closet is also the foundation of a "capsule wardrobe".  I've been using a capsule wardrobe system for my closet for about 2 years now.  It helps me keep my closet organized naturally, everything coordinates with each other and I can get dressed in about 2 minutes!  I'm so passionate about capsule wardrobes, I create several Capsule Wardrobe e-Books every season and have helped over 15,000 women, children and men streamline their closets, get dressed quickly and look great!  Plus, you can transform your closet with Simplified Style®: A Year-Round Core Closet Essentials Capsule Wardrobe.

How many items are in a Core Closet?
If you are starting out with a capsule wardrobe, you will need 18 items: 6 tops, 4 bottoms, 1 dress and 3 jackets and 4 pairs of shoes.  These core items will not only coordinate with each other giving you several starter outfits, but with each additional item you add, you will gain even more outfit possibilities!   When you want to expand your wardrobe to a full year-round closet, you can use the wardrobe plan in Simplified Style®.
When you have your core closet in place, you can start adding items to it, like cardigans, vests, other colors of jeans/pants, additional skirts and a few more shoes, depending on the season.  Here's a tip in adding more clothes and shoes: make sure whatever you add, make sure they all coordinate with your core closet items.  That way everything will match each other and you'll have many outfit combinations!
Can I use another base color?
Black is the most popular base color when building a core closet, but navy blue is also popular.  Some people prefer navy blue over black, so you can certainly customize your core closet with navy.  For most of the black items, just substitute them for navy ones.  Instead of the black leather jacket, you could include either a brown or other neutral color, like taupe.  Instead of the black jeans, grey jeans would look great.  For the shoes, nude heels, brown or taupe loafers and ankle boots would be perfect.  To find any of the items you need, just go to shopstyle.com to find them.  If you prefer another base color, rather than black or navy, you could also use a brown color, such as cognac, taupe or tan.  Also see my blog post, How To Start a Capsule Wardrobe: A 5-Step Visual Guide, where you can use black or navy as your base color for a capsule wardrobe.
A few tips in building a core closet
1. Buy quality items: Make sure the item is made well and the fabric is of quality.  If you buy a quality item once, it will last for a long time.  If you are on a budget, check the consignment stores and thrift stores.  You may be surprised at how many basic essentials you will find there!
2. Always try on clothes and shoes: To make sure everything fits properly and is comfortable, always try them on.  You'll see first hand how everything looks on you.  If you like how it looks on you in the dressing room, you'll be pleased with it for a long time.
3. Stick with mainly neutral, solid colors: Having your core closet items in neutral colors like black or navy, white and gray, will ensure that when you add accent items (like a floral top or a patterned bottom), they will go well with all your core items.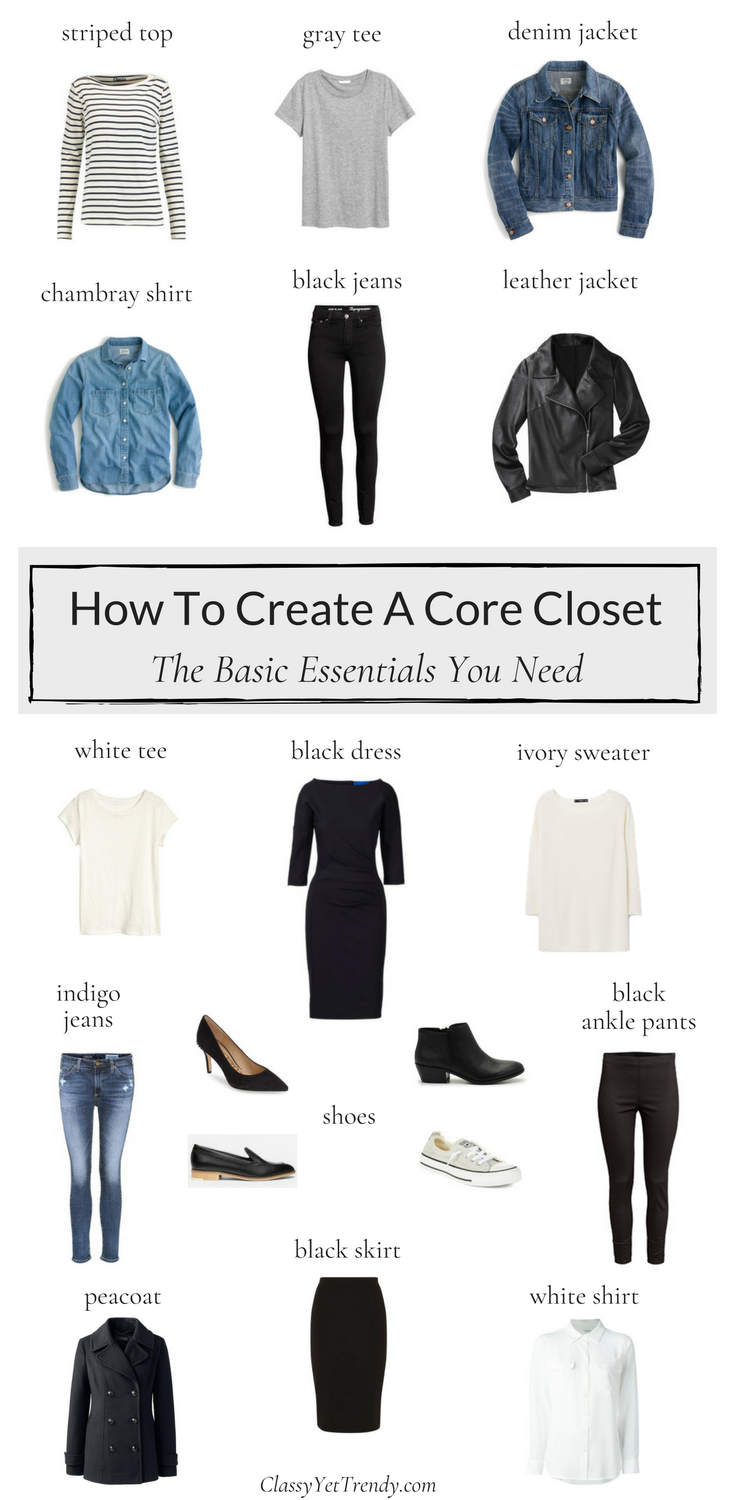 Core Closet Items Shown:
 striped top // gray tee // denim jacket
chambray shirt // black jeans // leather jacket (faux or real)
white tee // black dress // ivory sweater
indigo jeans // black skirt // black ankle pants
peacoat // white shirt (silk or cotton) // sneakers
black heels // black loafers // black ankle boots
You may also like:
How To Start A Capsule Wardrobe: A 5-Step Visual Guide
How to Build A Travel Capsule Wardrobe
Travel/Mini Capsule Wardrobe Ideas